(WOODY CREEK, ASPEN, COLORADO): Glooming blue light of dusk is mingling with the pitch-black notion of nothing. The rotten snow of yesterday shows no interest in melting into early expectations of spring. Just after the final hairpin turn, up the hill onto Woody Creek Road, two upper-case lettered "DO NOT ENTER"-signs, covered by heavy snow, are hardly visible - doing little to warn trespassers not to enter the premises of Hunter S. Thompson.
Although the official address is 1278 Woody Creek Road, Pitkin County, Colorado, the proprietor prefers to call it the Owl Farm - as does everybody else.
HOME
On a stool in the kitchen, squeezed in the middle of a desk and a stove, sits Hunter in his usual concentrating, slightly irritated, pose.
Around him, on the inside of the Owl Farm - his fortified compound - multiple proofs of one man's 67 years-long battle against authorities, stereotypes, boredom, poverty, meaning and his own great expectations are dominating the interior.
On this Sunday he is wearing slippers, sweatpants, glasses and a red and black striped shirt. The latter worn inside out. On his head, covering his thin hair, the famous fishing hat, and his fighting pilot sunglasses. Matched by his favorite fruit colored Hawaiian shirt - preferably used when others followed standard dress code - he is, even at 67, still being the demonstrative rebel going left where others would go right. On his right wrist, the wedding gift from actor Bill Murray - a Tiffany clock - that needs to be wound up every day.
In one minute, Hunter S. Thompson will die, 67 years old.
HUNTER S. THOMPSON
Hunter Stockton Thompson was born on 18 July 1937 in Louisville, Kentucky. Being a curious and idealistic young man, he wastes little time diving head first into life's big and small mysteries. This boundary-free and rebellious lifestyle soon gets him into confrontations with gangs, police and authorities. Sex, drugs and rock n'roll is his favorite pastime, making love and crime go hand-in-hand.
Although curiosity might have killed the cat, it could not harm Hunter, who, via the Army, discovers an unknown creative talent - and becomes sports editor for the Command Courier, on the Eglin Air Force base. Having difficulties holding onto jobs, constantly letting personal views and extreme behaviors making trouble for himself, he flees USA for Puerto Rico, where he lands a job in a small local newspaper.

In the capital San Juan, he develops a bad taste for capitalist Americans, which he later portrays in many a uncomplimentary way in books such as Fear and Loathing in Las Vegas and Generation of Swine. After years of travelling and searching for meaning, love and fame, his search for a place to call "home" leads Hunter, and his first wife Sandy, to Woody Creek 8000 feet high, in the mountains of Aspen, Colorado.
OWL FARM
On the other side of his kitchen working bench, on Hunter's right, the bookshelves are packed with books from well known authors and personal favorites: Ernest Hemingway, William Faulkner and F. Scott Fitzgerald - as well as different editions of his own masterpieces: Hell's Angels, Fear and Loathing in Las Vegas and The Rum Diary. On top of them lies paperclips, pictures, articles, documents and magazines, such as Scanlan's Monthly, Rampants, Esquire and, the one he is best known for, Rolling Stone. Personal memoirs are everywhere - in everything.
"I hate to advocate drugs, alcohol, violence or insanity to anyone, but they've always worked for me", he once wrote in Rolling Stone. Many of Thompson's stories involves excessive behavior, drinking and use of drugs - often tied closely together - and the three become an effective tool in Thompson's working etiquette.
GONZO JOURNALISM
Inspired by contemporary writers such as Faulkner, Norman Mailer and especially Tom Wolfe, Thompson works 25 hours a day trying to make his breakthrough. First as a free-lancer in journalism, then as a full time writer. His experience in San Juan becomes the backbone of the novel the Rum Diary, which, after numerous rewritings, fails to publish until 1999 - becoming in fact his final novel. After spending time with the Hell's Angels for a year, he finally makes his breakthrough with the novel Hell's Angels - a book that gives him great recognition, but, due to bad negotiating skills, fails to earn him much money.
It is not until 1972, after working several years on his next novel, under the working title of "the American Dream", Thompson finds gold. A series of published articles is put together as the book Fear and Loathing in Las Vegas, simultaneously revolutionizing his journalistic discipline.
"Gonzo journalism," which Thompson is credited as being the founder of, is: "Instant journalism: One draft, written on the spot at top speed and basically unrevised, unedited and uncapped before publication..."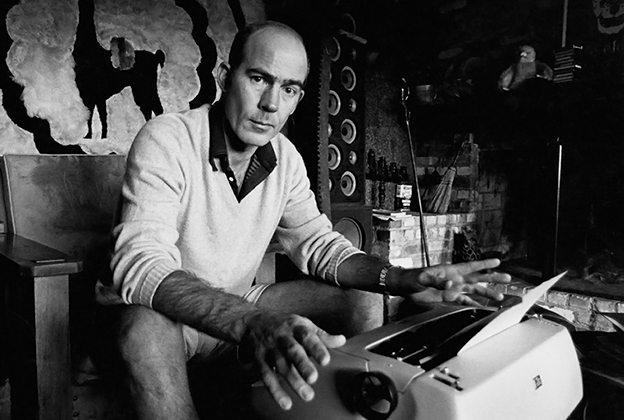 DEATH
High on the kitchen wall, on top of the American flag, the Stars and Stripes, hangs a picture of Cuban revolutionary rebel Che Guevara. Slightly beneath it, an edge worn poster of a double-thumped red fist clutching a peyote button - a thirty year old memory from when Thompson almost became sheriff of Aspen - in the beginning meant as a symbolic attack on the newly rich Americans "taking over" the city - ending up as a two lost elections, lost only by a few votes. Always in rage over power abuse, political cronyism and, Thompson and his "Freak Power Generation" clearly stated the power of the little manÈ and scared the hell out of the authorities.
On the desk beside him, his all time favorite novel, lies the Great Gatsby, written by F. Scott Fitzgerald - which he claims to be the greatest American novel ever written. Two empty bottles of Heineken beer and Bob Dylan's album "Highway 61 revisited". Often an inspiring sound during Hunter's writings, it is surprisingly quite in the Thompson Mansion on this February day.
In what has been his home for the last 30 years, the different tokens and mementos shapes an impressive encyclopedia of the self-proclaimed doctor in journalism, chemotherapy and divinity. But on this day, in the afternoon of 20 February 2005, the doctor is cursing his own inability, impatiently bent over his IBM electronic typewriter, desperately trying to put into sentences what his mind so easily is depicting. While chewing and puffing on his TarGard mouthpiece, Thompson is having a hard time finishing a long overdue article he has promised ESPN. Not even his usual creative helpers of mescaline, cocaine, grass or Chartreuse gets his mind going. Scribbles, notes, drafts and unfinished letters are everywhere - clear signs of a man either in an environment of controlled chaos or a man in constant creative modus. 5000 words a day was not rare for Thompson. Now he is having a hard time producing even one.
If only his wife Anita was present.
FAMILY
Hunter pours himself a glass of Chivas Regal, crushes a handful of ice on top of it, and picks up the phone. As he listens to the dial tone he empties the glass and awaits the comforting sound of his wife's voice.
– Anita? Hunter ushers.
– Yes, is everything alright?
– I can't write. Please come home.
Hunter is having a hard time making his creativity flow without his wife roaming around the house. Anita quickly shifts attention away from herself towards her lonely husband and decides to fulfill his longings. – I'll be right there. I'm leaving the health club now.
While on speaker promising to rush back, Anita is inspired by what she mistakes for being her husbands fingers punching the typewriter. Anita hangs up and immediately leaves for Owl Farm. Little does she know her thirty-five years older husband has just uttered his final words.
Relieved that his wife is on her way, Thompson reaches for a blank sheet of paper and inserts it into the typewriter. After pouring another glass of whisky, he puts a Dunhill cigarette into his mouthpiece and lights it. Unbothered by his ailing health, he has never considered quitting smoking, drinking or experimenting with drugs. "Is life so valuable that we should give up flirting with death in order to hang around? I'm not so sure..."
NO MORE FUN
With Anita on her way from the club, the only other people in the house at this moment are Juan (Hunter's son), Jennifer (daughter-in-law) and William (his six years old grandson). The family is relaxing in the dining room next to the kitchen, separated only by a narrow hallway, where a big picture by famous poet, Ron Steadway, hangs high on the wall. The quote "There's no fun in anything" is one of Thompson's favorites - in ways summarizing Hunter's recent physical problems (a broken leg and a hip replacement) and a mental shift towards a darker and more pessimistic view of life. Several times the past year, Hunter has written "I am nearing the end of my rope", although no one has dared to speculate what he really meant.
Far down in the valley, slowly climbing the snowy hills towards Owl Farm, Anita starts to replay the last seconds of her conversation with Hunter. Was it really the sound of the typewriter she heard, or was it something else?
With another glass emptied, Hunter puts out his Dunhill and positions his fingers on the typewriter. Below today's date (02/20/05) he quickly types the word: "c o u n s e l o r".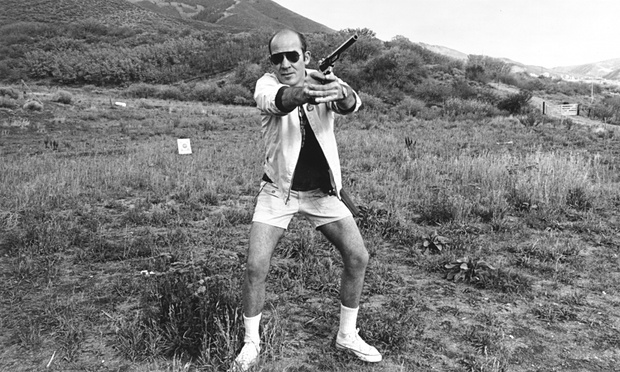 FAREWELL
Apparently satisfied with what he has written, Hunter reaches for a silver made gun case. It holds his favorite handgun, a semi-automatic Smith & Wesson Model 645. He loads the gun with six .45 caliber rounds, as well as one in the firing chamber, and cocks the hammer.
Inside Owl Farm, the exploding sound of a gunshot shocks the drowsy evening.
In the living room, the family of three suddenly stops for a moment doing what they are doing - believing they have heard something peculiar.
– What was that? Jennifer asks her husband, while William, the six-year old impatiently waits for her attention. Juan finds no reason to interact with his father's affairs.
– Probably just a book falling to the floor, he answers.
On a stool in the kitchen, squeezed in the middle of a desk and a stove, sits Hunter. Upright, his head facing down - with blood from his mouth dripping on his Hawaiian shirt. By his right leg lies an open handgun case. Beside it Hunter's favorite hand gun, a .45 caliber Smith & Wesson Model 645. Stuck in the stove hood behind him, a single spent slug.

The King of Gonzo, the self-proclaimed doctor in journalism, chemotherapy and divinity is dead.
EPILOGUE
"No More Games. No More Bombs. No More Walking. No More Fun. No More Swimming. 67. That is 17 years past 50. 17 more more than I needed or wanted. Boring. I am always bitchy. No Fun - for anybody. 67. You are getting Greedy. Act your (old) age. Relax - This won't hurt."

– Hunter S. Thompson

--- --- ---
• Kilder: Ewing, Wayne. Breakfast with Hunter (TV documentary). USA (2003)
Thompson, Hunter. Fear and Loathing in America: The Brutal Odyssey of an Outlaw Journalist, 1968-1976. Bloomsbury Publishing, London (2000)
Thompson, Hunter. Generation of the Swine: Tales of Shame and Degregation in the 80's. Simon & Schuster (2003)
Thompson, Hunter. Kingdom of Fear. Penguins Books: USA (2003)
Thompson, Hunter. The Proud Highway: Saga of a Desperate Southern Gentleman, 1955-1967. Ballantine Books (1998)